National Apprenticeship Week
National Apprenticeship Week (NAW) is an opportunity for Tees Active to celebrate the success of our current and previous apprentices and the positive impact they have.
But first of all let's take a look at what an apprenticeship is… apprenticeships are work-based training programmes that provide individuals with the skills needed to succeed in their role and develop their career within a business. This means apprentices can put their skills into practice daily at work, while also gaining a nationally recognised apprenticeship and being paid. Not only do apprentices learn valuable skills and knowledge they also gain a range of qualifications.
Our apprenticeship scheme launched over 12 years ago and has helped lots of young successful people develop their careers. As an employer Tees Active's over 90% of apprenticeships go on to secure employment after their placement has finished. Here at Tees Active we offer a range of apprenticeships. These include Leisure Operations, Health & Fitness, Customer Service and Business Administration. Typically our apprentices work within a venue for 4 days of the week and attend college for 1 day of the week.
This National Apprenticeship Week we caught up with some of our current crop of apprentices to find out how they were finding there time with Tees Active…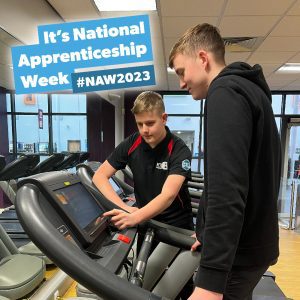 Let's take a look at Sam who started as an Activ8 apprentice back in October 2022. He's a valued member of the team at Billingham Forum and has already learnt a range of valuable knowledge, experience and skills. Sam's Apprenticeship lasts for 15 months with Tees Active and he will gain a level 2 qualification and will be level 3 first aid trained. Sam said "I've really enjoyed my time with Tees Active so far, I have already learnt so much in a short space of time and I am looking forward to see how I can develop further during the rest of my apprenticeship."
Now let's take a look a look at some of our previous apprentices and where they are now…
Guy started as a Health & Fitness Apprentice back in March 2012. After a successful apprenticeship he progressed into a permanent role for Activ8 as a Health & Fitness Advisor. Guy continued to develop his skills and continued to show his passion for the fitness industry and was promoted a few years ago to a Health & Fitness Co-ordinator and is now based solely at Stockton Splash.
Dan started as an Apprentice Leisure Assistant in February 2019 working at Billingham Forum. Following his apprenticeship he secured a job at the newly built IB Leisure as a Leisure Assistant. Dan continued to show his enthusiasm and hard work and now along with his contracted Leisure Assistant role he also steps up to be a Casual Senior Leisure Assistant and a Casual Duty Manager when required.
Tees Active still have several other employees who have progressed through the company from initially starting on the apprenticeship scheme which is a testament to everyone's hard work, skills and loyalty.
---
To find out more about our apprenticeship scheme click here.